Fame & Shame on the LES Presents:
this is what we have...
Solo Performance by Heather Acs
Music by Jazzmen Lee-Johnson and Gepetta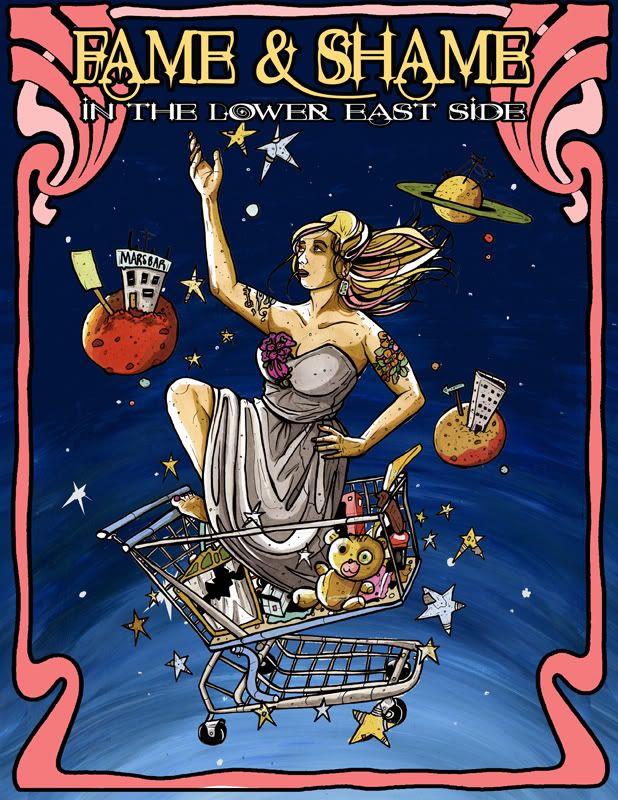 THREE SHOWS
Thursday, 7/7 @ 8pm at CSV, 107 Suffolk Street - $5
Friday, 7/8 @ 8pm at CSV, 107 Suffolk Street - $5
Saturday, 7/9 @ 8pm at Le Petit Versailles, E. Houston & Ave. C - FREE, but RSVP Required for Saturday show: http://bit.ly/rsvplpv


.......
Sometimes what we have is not enough. Sometimes what we have is far too much... Solo performance artist, Heather Acs will create something out of nothing to bring you an astronomical evening of storytelling, music, magic, and theatre that needs no stage.
You don't need to be famous, you don't need to be rich, dreamin' is free. Enjoy an intergalactic exploration of adventures, interconnectivity & the story of stardust. Sometimes what we have, is just right.
HEATHER M. ÁCS is a Brooklyn-based, multi-media theatre performance artist, activist, educator and high-femme troublemaker. Her gritty, glittery work has been featured in festivals, theatres, and galleries across the U.S., Canada, and Europe. She performs and facilitates workshops at community spaces, colleges and conferences from coast to coast. Heather has worked with Justin Bond, Claude Michelle-Wampler, J. Ed Araiza of the SITI Company, and filmmaker, Steven Soderbergh. She is the Co-Producer of the Heels on Wheels Glitter Roadshow, a touring, performance-art cabaret of flashy, queer femme performers. She is also a dedicated teaching artist, using theatre as a tool for social change with low-income youth.

More Info:
http://www.departmentoftransformation.org
Join us for the Second Annual Sex Worker Cabaret on Sunday, June 12, 2011!
Sex workers take the stage to tell their diverse stories through performance, narrative, puppetry, burlesque, comedy and more. This event starts with a curated selection of video works about sex work around the globe, and then features an all-star lineup of eleven performers.
Producers Sarah Jenny and Damien Luxe are proud to present this Sunday evening cabaret showcasing some of the most vibrant creative talent in the sex worker community. The cabaret is in homage to Annie Oakley's Sex Workers Art Show (1997-2009) and takes place during LGBTQ Pride month, a time to reflect on the importance of community. Come listen to tales of self-determination, and bear witness to survival and celebration as sex workers eloquently — and at times raunchily — speak their truths.
With MCs Sarah Jenny and Damien Luxe and DJ Sirlinda!
WHEN:
Sunday, June 12, 2011
TIME:
DOORS @ 7:30PM, VIDEOS @ 8PM SHOW @ 8:30PM
TICKETS:
$12 in adv. or $15 at the door (
Click here
to purchase tickets online.)
WHERE:
Public Assembly, 70 N. 6th St., Brooklyn, NY
For more information, please visit www.sexworkercabaret.com
Sex Worker Cabaret - Call For Performers

Sunday, June 12, 2011

Share Your Sex Worker Pride this June at the Sex Worker Cabaret on June 12th at Public Assembly in Brooklyn, New York!

Submit your proposals here >>>>>
http://www.sexworkercabaret.com
We are looking for cabaret acts of 3-7 minutes each for an early evening (7pm -11pm) event: burlesque, performance art, literary readings, comedy, video art, musical acts, etc. are all welcomed.
Diversity encouraged! All genders, bodies, ages, and talents welcome to apply. We are currently looking for proposals that would be, on some level, about sex work: whether it be a story about your favorite/least favorite client, a burlesque number to She Works Hard For the Money, or a more abstract interpretation. Preference is given to current/former sex workers (self-defined) but we will also consider topical submissions from allies, partners of workers, etc.
Please submit a short proposal by
April 7, 2011
about the act you are interested in doing. If we don't know one another, please send a link to your website, facebook, etc. or a link to a video.
Compensation: This is a benefit for…you! Some overhead costs need to be covered but after that, all money received from the door will be pooled and split among the performers. (Each act is a share in the pool; each video is a half-share) We ask that you help promote as the more people we bring in, the more money for the performers. We can help out of town performers find housing, but are unable to provide travel stipends.
We are also looking for go-go dancers who would be compensated with part of the pooled funds -- but also receive tips. Go-go dancing is 7pm-8pm and during intermission. You may apply to both perform and go-go.
Please forward to anyone you think might like to be a part of this very special evening.
Deadline: Please submit your proposal by April 7th.
Submit your proposals here >>>>> http://www.sexworkercabaret.com

Questions? Contact: Sarah Jenny & Damien at producers@sexworkercabaret.com
rtfolio/sex-worker-zine-project/ .
How to Contribute
Are you a current or former sex worker or someone who has experienced trading sex for money, food, housing, drugs, hormones, and/or other survival needs? We want to hear from you! Please submit your work on a sheet of paper 5 1/2″ x 8 1/2″ (ex. half a sheet of letter size paper) with quarter inch margins, full color (or black and white, high contract) page to our zine project. Please do not fold the paper if possible. Include on a separate page (either attached with a paper clip or leave unattached) your name (does not need to be your legal name), age, email address and/or phone number, and a mailing address should you wish to receive a copy if your page is makes it in the final project. Please state how, if at all, you wish to be credited for your work. (ex. Sparkley Stacey, John Doe, Anonymous in India, etc.) Be creative! Use pens, markers, collage, glitter, what ever way you wish to express yourself! You can use text or images alone or together. You can submit up to five pages but we will probably only be able to print one page per person. Your original materials will not be returned to you.
Your submission must be postmarked by
May 1, 2011.
Can allies contribute?
We will consider submissions by allies! If you are an ally, friend, family member, child, parent, or partner of a sex worker, your story and advice is also valuable! Please consider submitting a page to the zine and please note if you are an ally with your submission.

Submissions by E-Mail
You can submit your piece by email if you are able (for example, created in PhotoShop or if it is scanned) at 300dpi resolution. Please email to: sarahjenny(at)gmail(dot)com.

Submissions by Mail
Mail your submission to:
Sarah Jenny
721 Broadway
4th Floor, ITP
New York, NY 10003 USA

Prompts & Ideas for Submissions
Your techniques for self-care, ex. bubble bath, cooking a good meal, playing with your dog, etc.
Techniques for harm reduction, ex. getting tested regularly, tips for screening clients, strategies for staying safe, etc.
How To Be An Ally To Sex Workers
Tips for Partners of Sex Workers – how to be supportive, how to decide whether or not to come out to a partner, etc.
Illustrate your favorite work outfit
Illustrate your favorite outfit in general!
What does a bad day at work feel like? How do you cope? What would you like to see change?
Illustrate and write about what sex work is like in your city, region, or country.
Illustrate and write about what you imagine ideal working conditions to be like — ex. decriminalization, health care, etc.
Tell us about your sex worker community!
A list of your favorite support resources, books, magazines, and organizations
Anything else you wish to add!
The Sex Worker Zine Project seeks to create a zine showcasing the diversity of sex workers' experiences of all genders, sexualities, ages, abilities, nationalities, immigration statuses, races, and ethnic backgrounds. International submissions encouraged! This yet to be titled zine will be printed in full cover and will be available for sale with profits supporting the work of SWOP-NYC. All accepted contributors will receive a free copy of the completed zine. For more info, visit: http://www.sarahjenny.org/blog/po


i am on a MAC. i have an internal (attached) cam and an external one..is there a way to run/alternate both?
but how do i broadcast a webcam on my website these days? still images, every 30 seconds old school cam girl style?


my needs are:

* phone service with good reception in brooklyn and manhattan (shockingly spring does not have that, my current provider)
* good textin' abilities!
* easy email access and able to manage multiple email accounts (gmail)
* ability to view and update my google calendar OR sync google calendar
* to use a maps feature (ex google maps) and hopstop.com
* good reception, few dropped calls, internal speaker relatively loud (i'm partially hard of hearing)
* the ability to distinguish blocked calls from normal numbers or in my phone book (ringer profiles?)

what i'd like to be able to do (bonus):
* update blogs (wordpress)
* update my twitter
* check facebook + myspace
* listen to music (itunes, pandora.com), watch video (youtube, etc)
so i was given this fab blackberry curve (T-Mobile) but i am debating between getting T-Mobile contract or selling it and getting an iPhone (AT&T) so, what do you think??
i realize i used to post all3all about my sexual exploits and seeing as i've been a married old hag for the past year, it is a little difficult to find juicy tidbits of gossip to share. i'm not really interested in discussing the intimate details of my relationship here.
woah. news flash. roommate
#1
just texted me that the sex party / cruisin' thing on the pier in greenpoint got shut down (hilarious) and roommate
#2
had her fuckin' wallet stolen at a show just now -- ON HER BIRTHDAY. what gives?!
back to my story, though. this may seem comical to most civilians, particularly those fond of sex and the city, but recently i've stumbled across several of my lovers while with my current beau. he always asks who's that or how do i know them and i proceed to quite honestly explain, quite matter of factly, the context in which i came to fuck them. this is a common occurrence, perhaps most common that i expected.
i live in a city of eight million and i've slept with under 100 people. statistically, the odds are in my favor. so what gives?
in the past week, j. and i ran into my former lover s. while in a coffee shop. granted, we both lived in prospect heights and frequented the bakery but what a fluke. i explained we met at a fetish party. me, dressed head to toe in latex, corsetry, 4" heels and a smattering of matte red lipstick. her, in all her soft butch glory, perfect katherine moening cheekbones, cropped tight curls, and bewildered look. she looked deliciously out of place and i took full advantage of it. we didn't go home together that night, but we certainly did after that. she was chivalrous, albeit an alcoholic so despite the fact she would insist on paying for things when we went out, she was too drunk to do it and i would get the bill. s. disappeared after a few weeks and i had only run into her once before this recent encounter since we were sleeping together.
and then there was last night. out for a date with my guy, enjoying downtown west side to east side, and stopping for something to satiate my sweet tooth on the lower east side. j. went to use the loo and i suddenly hear my name being called. then my last name, then the school i went to. so of course, i turned and i see this african-american guy who looks entirely unfamiliar to me. my heart sort of stops. i don't like when people know who i am, but i don't know who they are. i look at him quizzically.
"sorry, do i know you?" i asked. he said that he had something that might jog my memory. he handed me his ID. he looked similar to the man standing before me with locks to his shoulder. i glanced at the name.
nicholas. nicholas? who the fuck is nicholas?
my mind raced to place the name, the photo, the man standing before me before things got completely awkward. and then it hit me.
nicholas. NICK.
oh right. i had an unfortunate one night stand with this fellow maybe my third year of college. he ended up sleeping on the couch of our common space and i locked the door behind him. no sense in letting him return for seconds.
we made small talk in the cake line while i picked out my vegan desert. he's been in the city four months, DC since he has graduated, and thinks he looks different now. i smiled, playing off my utter loss for recognizing him on his new hair style. the truth is he wasn't a particularly good lay, certainly not memorable amongst those i've bedded.
i paid for my slice and said i had to head back to my boyfriend. we hugged, awkwardly and brief, and then he went back to the bar next door. he had recognized me from the street!
i am lucky to have a fabulous fag boyfriend who can cooly see through my sexual exploits to the real, nerdy, loveable me.
i am questioning whether or not i should have a public site again or just stay on LJ "friends only" style.


thanks xoxo
and as what? i want yr ideas!